In a number of companies there is a practice in which, when the entire plan or a part of it is fulfilled - the calculation of the bonus follows one set of rules, and when overfulfilled - it follows completely different rules.
An employee of a company approached us with the following case:
How we process calculations: until we have reached the goal - there is one tariffication, after reaching the goal - we recalculate the bonus according to the new rules, forgetting which rules were used before.Aleksandr (client)
Based on this request, the corresponding functionality was added in our application "KPI - Efficiency work of the company ". Now, in the target's settings, with the "Allow overtime" option set, the calculation options "Payment for each goal accomplishment" and "Proportional payout" will appear setting "Recalculate the entire premium by processing parameters".
If you set this parameter, then the entire calculation of the bonus will occur only according to the processing conditions. The settings in the "Premium" block will not be taken into account .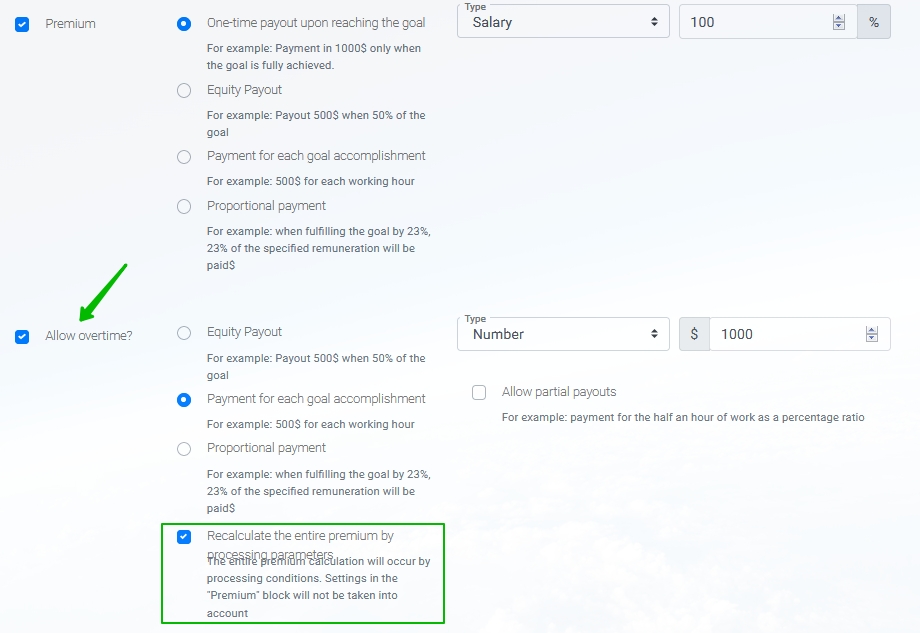 Setting the bonus calculation